Custom Promotional Capes - Printed & Embroidered with Logos & Slogans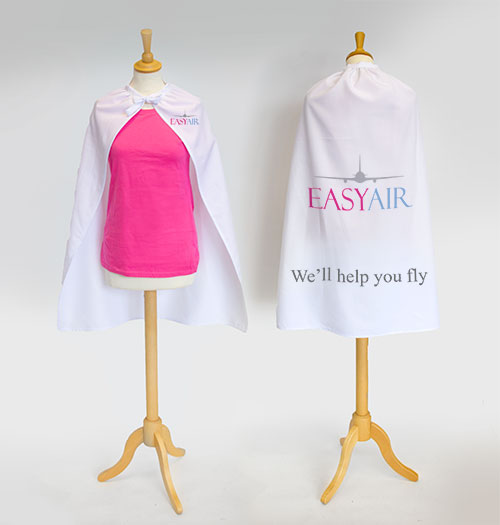 These branded and personalised capes make a great addition to your promotional campaign. Raise awareness in a fun, distinctive and memorable way. Link your brand to the positive associations of heroes, heroins and super-powers; they will really help your campaign fly!
Your company branding and promotional campaign can be printed or embroidered on each cape. This can include a corporate logo, slogan and artwork.
The size of the promotional capes is approx. 80 cm wide at the bottom, 40 cm at the top, 90 cm long with 20 cm long ties. Ideal to fit all sizes.
The fabric is a European woven spun polyester material; aiding comfort and manoeuvrability. Suitable for one-time use, or capes can be washed for multiple uses.
Available in White, Black, Navy, Royal Blue, Wedgwood, Red, Burgundy and Bottle Green. More colours available on request (subject to availability).
Full details of embroidery and printing methods can be seen
HERE