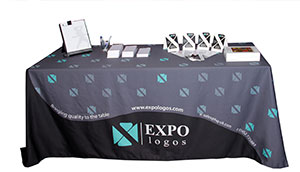 Plain, Printed or Embroidered Tablecloths - Buy Online here
Our printed tablecloths are made from spun polyester, woven in Europe, and manufactured here in the UK.

Detailed below are the various styles of tablecloth that we produce, along with the colours available from stock and some of the more popular sizes that we supply.
PLAIN TABLECLOTHS: MADE TO MEASURE.
Our fabrics are woven at 320 cms wide which means we can manufacture in our plant in Gloucestershire any size tablecloth up to that width without seams or joins. 
Fabrics currently available in stock include:
Spun Polyester, in black, white and a variety of other colours (looks like cotton, but washes better).
Spun Polyester in white with an ivyleaf embossed design.
Spun Polyester in Gingham checks.
Linen/Polyester Blends, in modern subtle colours suitable for today's hospitality market.
PRINTING OPTIONS:
Transfer Printing: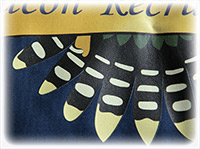 Your design is printed and heat pressed directly on to the fabric. The print area is up to 150 cms long x up to 50 cms high. When you order we will send you a scaled visual of your tablecloth.
Photographs or gradient fills can be reproduced and CMYK colour references will be matched.  The print is hard wearing, durable, and can be washed safely at 40 degrees. Transfer printing is also used to print spandex table covers.
Sublimation Printing: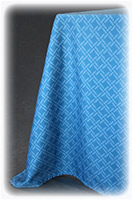 Our sublimation printing  covers the the entire surface area of your tablecloth, great if you have a large or repeat design that you want to cover the whole cloth.  This is achieved by digitally printing the design directly onto a white base cloth and consequently the background colour can match your Pantone reference colour. Please note that the underside of the fabric remains white, as the printing is restricted to one side.
Artwork for Printing:
For the best results we ask for artwork to be supplied as an EPS or Ai vector file. A proof of the print is supplied for approval before production commences.
Send your artwork to sales@hq-uk.com for a quotation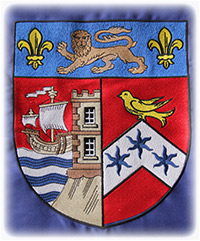 EMBROIDERY OPTIONS:
We can embroider designs incorporating up to 15 colours on your promotional table cloths measuring up to 100 cms wide. Fine quality threads and the latest technology allow the best recreation of your logo in fine detail.
➤➤ For further information or a quotation contact us or call 01452 858051