Promotional Umbrellas - printed with your brand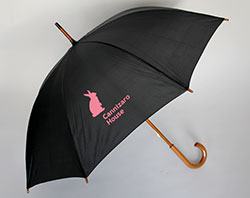 A printed umbrella is a great item for a range of occasions. Supply as part of a promotional campaign, a free gift with your magazine perhaps; keep your hotel guests dry as they explore the grounds or unload luggage; protect your wedding guests from the elements should the heavens open or treat your important customers to an umbrella branded with your logo... particularly welcome if they enjoy an afternoon on the golf course.
We have a great range of umbrellas in a number of colours, which can be screen printed with your logo or supplied plain.
➤➤ For further information or quotation contact us or call 01452 858051